The Announcements!
**********************
The first CWTA shoot since 2020 is in the books!
Press these links!
*************************
The 2022 CWTA Season is on! The first shoot will be held here, at Weston Hit & Miss Trap Club on January 9th! Please help make this shoot a success by helping out or shooting or better yet, both!
*************************
Back by popular demand and because they're just so good at it, all of our friends from the in person Hunter Safety Education program, are back to do it again. There is just no better way to learn Hunter Safety than in person! See info below.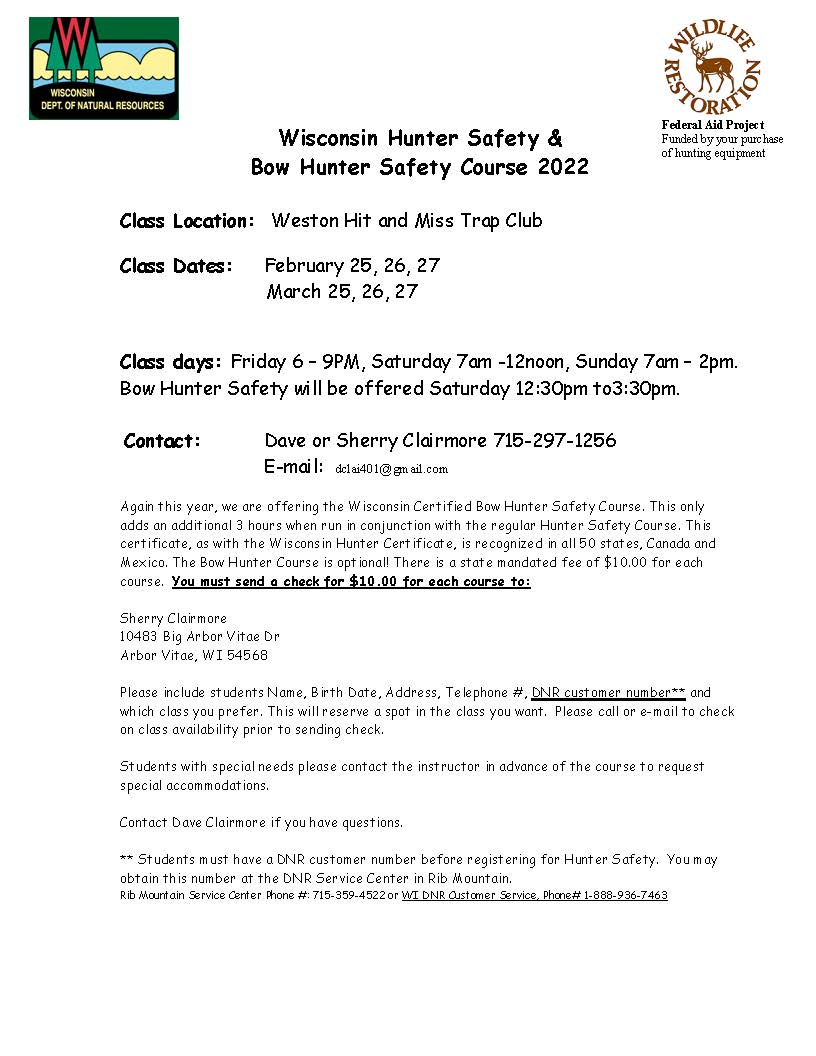 League Roster forms available here.
The 'pdf' form linked below is for you to print and bring in. The 'xls' form linked below
2021 LEAGUE INFO
See "What's New" for League Shoot Off Results, Final Standings and Picnic Class Assignments.
***********************
League scores will be posted when shared and received by the web master.
******************
We are looking for persons to fill setter positions for the next year. These are the only paid positions at the club. Duties include, but are not limited to, loading the traps during open hours and events. It is a great way for high school or college age students to earn some income. Anyone age 16 years or older interested in a part-time job should contact a board member or email westontrapclub@gmail.com for more information.
******************
We are a Member Owned and Operated club. There are NO Paid Management Positions
"He", "She" or "They" do NOT make this club run . . . YOU do.
HELP it be here tomorrow.
Or … We could raise target prices and hire people to do what you do not want to do. Members have been heard saying 'I don't come here to work, I come here to shoot'. If that is how we want it, come to a member meeting and propose it. It's your club. Make it what you want – inexpensive and member run or, more expensive but with services provided. Just remember, if you want to play, you have to pay – somewhere.
******************
We need your help. Even if you cannot donate any other time or talents throughout the year, please find time to attend a meeting or two. We need 15 members present at the membership meetings in order to vote and conduct business. Meetings are held at the club on the 1st Tuesday (of most months) at 7:00 PM or as scheduled by the Board of Directors